Bahia grass (paspalum notatum)
Bahia grass (paspalum notatum) is a perennial deep rooted grass that spread by very vigorous rhizomes. It usually form dense sward within a short time of establishment. It is of low palatability and resistant to grazing.
The grass is large seeded therefore can do in rough seedbed. Seeding rate is about 5 – 10 kg/ha. It can also be established from stem cuttings and can be grazed 3 months after initial establishment.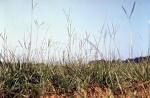 It is only excellent in slopy or very steep areas where there is high rainfall. Soils should be moderate to highly fertile. The grass can withstand considerable periods of drought because of the rhizomes.