About Horses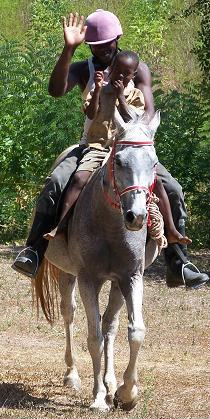 Horses have faithfully served man for millennia; great empires have been built from horseback, they helped to win wars and were the forerunners of modern mechanized agriculture. Travel and communication were initially mainly done from horseback or by horse drawn carriages. Some folks even go as far as suggesting that what modern man is today, he owes to horses.
Yet all this development has gone virtually unnoticed in many parts of Africa (except a number of countries north of the Equator), here man has been plunged from pre horse-domestication times to fully motorized and industrialized life in a time-span of less than a century and horses are fabled beings out of picture and school books. Rather few people have had the privilege to have seen a real horse in their life.
Unfortunately most domesticated farm animals here are only measured up against their value to produce human food or clothing (meat, eggs, milk, wool and leather). Although in some countries horses are still being kept for this purpose (meat and milk) too, there is so much more that a horse can help you with:
Horses for Work:
Horses, alone or in pairs can draw most farm implements for land preparation and harvesting as ploughing, harrowing and mowing, etc. They can help in irrigation by driving water pumps or electric generators. Specially designed equipment for drought animals is utilized. Horses can also be used for logging work and in mining and pulling of heavy carriages for transportation of payload or people. Whereas Kenyans are accustomed to Tuk-Tuk or Bajaj kind of taxi services other countries use small horse drawn carriages in exactly the same way. Good money can also be earned by renting out horses for horseback riding or as carriage horses in the tourist industry or the domestic leissure market.
And all this is done extremely environmentally friendly as horses do not use fossil fuels, do hardly cause any soil compaction and the only pollution or "waste product" they produce is their dung which can be used as highly valued fertilizer.
Horses for Sport:
In Kenya horses for sport are mainly used for horse-racing, polo-playing some dressage and show jumping. Long distance races, competitive carriage driving and many more are not currently practiced here. The monetary value of good sporting horses has no upper limit and breeding these types of horses is good business.
Horses for Pleasure and as Pets:
Horses are great family pets, and can give their owners much pleasure with their gentle and trusting nature. Children as young as four to five years can learn to ride and handle a horse. For many this will start a passion they will not be able to loose for the remainder of their lives. No other activity in the world comes as close to the feeling of flying as horseback riding. While riding your whole body is exercized, your responsive skills and reflexes are trained, riding keeps your body and mind fit!
Horses have also worked wonders as therapeutic animals for mentally or physically impaired or autistic people.
Horses to keep your cattle more healthy:
This is probably the least known benefit of keeping horses, although a much appreciated fact elsewhere, as a Latin American saying goes:
"A farmer purchased a piece of land to keep cattle on. He stocked it with 100 head, which initially did quite well. But after a couple of years pastures and the health of his cattle declined to a point that they became unprofitable and he decided to sell them all. Thinking that horses might do much better on his scarce grazing he utilized some of the proceeds to purchase 20 horses, which did quite well in the beginning. But not for long and the same problems he experienced with his cattle started to reappear. This time around he blamed his land, which had become barren and infertile. He got frustrated so much that he lost all interest in farming and finally sold this piece of barren land.
The new owner had some previous farming experience, kept the twenty starved and skinny horses as nobody was willing to buy them anyway and added 100 head of cattle. He built some paddocks and spent quite some money in the first two years to buy supplementary feeds to keep his animals alive. All his neighbours laughed at him and kept placing bets how long he might last. But after these initial hard times wonderful pastures started to reappear, and without any additive feeding his cattle and horses were the healthiest and fattest lot of all."
This is not a fairytale but has a very logical background. Ever wondered how the huge herds (in their millions) of wildebeest and zebra in the Mara and Serengeti keep looking so healthy and well fed???
Their secrets are two: They keep migrating and never stay on a given location for too long (which can be imitated by paddock grazing) and the herd is mixed and comprises of about 10% non ruminants (which would equal about 10 horses for every 90 head of cattle).
All grass left over by the cattle (usually near piles of cow dung) will be eaten by the horses, which includes all internal parasite eggs and larvae deposited with the dung. Being a non ruminant most of these worms cannot develop in the horse gut and will die. And again the cattle will eat all the grass near the horse droppings. They sterilize each other parasite eggs and larvae and need much less deworming and stay much healthier in general.
And your pastures will look so much better, too, as they are very evenly grazed off (almost like being tractor mown) and also most unwanted weeds are consumed by either of the two species. And the additional dung of the horses really does wonders improving pasture productivity!
So much more can be told about horses, which is too much to be digested all at once. And I still want to have some chapters untouched for my next article, too… More horse pictures and activities.