Can dairy farmers profit from the recent increases in milk prices if they relied on Napier grass alone?
The recent increases in milk prices by Brookside and New KCC have brought about an increase in dairy production activities. Currently the two milk giants are offering farmers Kshs. 25 per kilo of milk at the minimum. Brookside has gone further by rewarding quantity,
for example Kshs. 25 per kilo for deliveries between 1 to 500 kg, Kshs. 26 per kilo between 501 to 1000 litres and Kshs 27 for deliveries over 1000 litres. Many farmers are happy with the improved milk prices because they say that they can meet the cost of milk production and realize a profit after the sale of milk.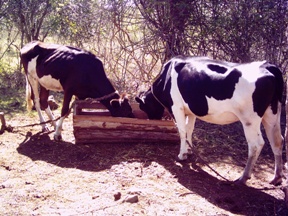 Whether farmers are making a significant profit margin or not can be ascertained by looking at the current cost of milk production in the country. By conservative figures milk production costs stand at around the same prices the two milk giants are offering the farmers.
The actual costs incurred by farmers in producing milk depend on many factors at the farm level. One important aspect is the level of management. Most livestock farmers release their dairy cows into the grazing fields in the morning and bump into them during the next milking. Minimum investment is spent on the cows and the milk so produced is considered profit. The amounts of milk so produced are usually too little to sustain any meaningful adventure. However a significant number of farmers invest in their dairy cows and these are the ones that are of interest.
So what are the costs of producing milk?
Feeding contributes about 70% of milk production costs, the rest are housing, breeds, health and equipment. Generally a serious dairy enterprise cannot overlook the forage resources that are available to the animals in the farm since they form the basis over which the enterprise depends on. Although commercial feeds are equally important, they don't pose a threat as they can be purchased whenever the need arises.
On dry matter basis, an adult cow consumes about 3% of its live weight daily, the bulk of which is contributed by forages. A cow weighing 450kg will therefore consume 13.5kg of dry matter daily. On a wet basis, this translates to 67.5kg per day. One hectare of Napier grass produces about 7 MT of dry matter annually under modest management. Compared to other grasses, the productivity of Napier grass is higher, but the management system is equally highly intensive. The high productivity of Napier has made it the number one choice of forage in zero grazing systems. One hectare of Napier is therefore enough to feed one cow for 518 days or one cow and a heifer for one year.
The cost of establishing one hectare of Napier grass is about Kshs 40,000. This cost is incurred only during the first year and subsequently maintenance costs are about 13,000 per year for the next 3 to 5 years.
| | | | | |
| --- | --- | --- | --- | --- |
| Input | Unit | Cost per unit | Quantity | Total cost |
| Land | Hectare | 4000 | 1 | 4000 |
| | Ploughing | 4000 | 1 | 4000 |
| | Harrowing | 3000 | 1 | 3000 |
| | Planting materials | 2000 | - | 2000 |
| DAP Fertilizer | 50kg bag | 3000 | 4 | 12000 |
| CAN Fertilizer | 50kg bag | 1800 | 4 | 7200 |
| Weeding | Hectare | 3000 | 2 | 6000 |
| Total | | | | 38200 |
Cost of establishing one hectare of Napier grass
If fed to full capacity, cows have the ability to produce 7 kg per day from grasses alone. Additional milk will come from legumes and commercial feeds. Legumes can increase milk production up to 15 kg per day and depending on the commercial feed an additional 2kg of milk per kg of supplemented commercial feed (Dairy Meal). Commercial feed, also called concentrates, should not exceed 50% of total feed intake.
Going by these figures, a cow can produce 2100kg of milk per lactation, which is 305 days in the year. Translated to money, this is about Kshs. 52,000 per year. If the farmer relied on Napier grass alone, then he would realize a gross margin (GM) of Kshs. 12,000. He would realize higher GM in the following years because there will be no establishment costs.
For the farmer to realize more profits, then establishment of legumes to cut costs on commercial feeds will be very important. Other aspects to consider will be the health and housing of the dairy cows as a good environment increases milk production.