The Best Tropical Dairy Cows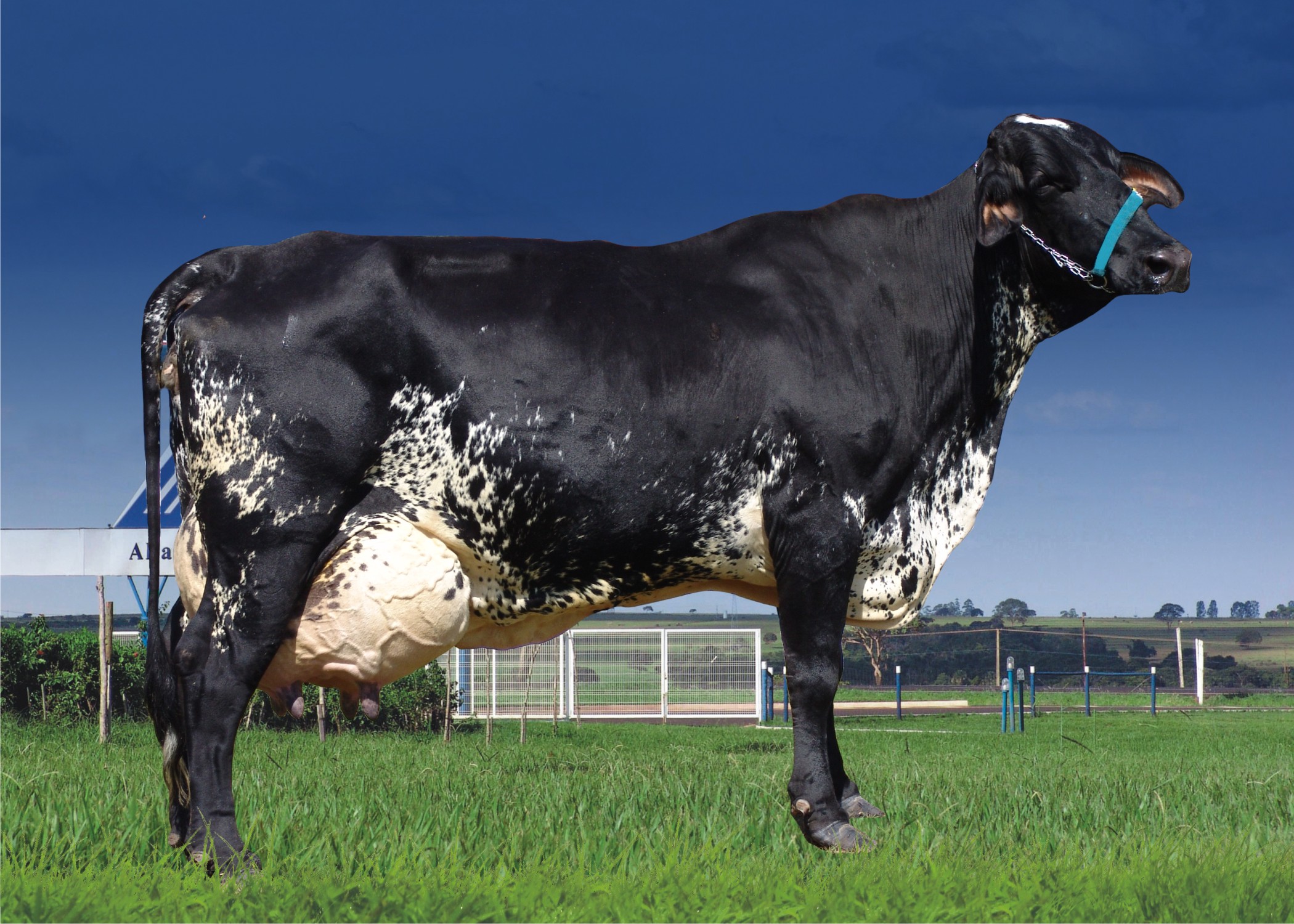 This cow produced 22,798 liters of milk in 365 days! Not in the USA or cold Europe, but in a tropical country just like Kenya. This lactation record equals an impressive and unbelievable lactation average of over 62 liters of milk per day! Welcome to this "seeing is believing" picture show through the fantastic and fascinating world of true tropical dairy cattle.
"Quartinha Terra Vermelha"
22,798 liters in 365 days
Breed: Girolando (50% Gir, 50% Holstein)
"Zebu" cattle, also known as "Bos Indicus" or simply humped cattle originally came from the Indian subcontinent but they and their crossbreeds (hybrids with cattle of European origin) are now found all over the tropical and subtropical areas of the world. Through thousands of years of natural evolution and selection they optimally adapted to the hot tropical environment they were born into. Their main characteristics are a huge fatty hump on either their neck or shoulder, large and drooping ears, much skin under their necks and a prominent dewlap and navel flap. The sheath in males and the udder in females may be quite large and pendulous. Their hair is very short and the skin oily which helps in repelling external parasites. They are extremely heat tolerant and resistant to many diseases and internal parasites. Our local breeds of cattle, the Boran and Small East African Zebu, are pure Bos Indicus breeds.
Zebu cattle are commonly not believed to be prolific milkers. On the contrary, many potential dairy farmers shy away from buying animals with even the slightest indication of having a hump, too much skin along the neck or a prominent navel flap.
Since colonial times many farmers believe that the only "true" dairy animals are cattle of European origin, for example Holsteins, Ayrshires or Jerseys as described in "Important dairy breeds of cattle ", "New breed of dairy cattle" and "Fleckvieh Impressions".
Unknown to the majority of Kenyan farmers there are pure Bos Indicus breeds of dairy cattle that are easily capable of out-producing even the best of our European type cows (to my knowledge there are only very few purebred Holstein cows in Kenya that have produced over 11,000 liters of milk in one lactation and possibly none that has produced beyond 12,000 liters, which would equal a lactation average of 40 liters per day).
As pictures can replace a thousand words please enjoy the following line-up of some of the world´s greatest purebred Bos Indicus dairy cows, some of which are past World Record holders (as far as 20 years ago), others are World Record holders of the present. Most of these records were achieved in lactations of between 305 and 365 days, others are lactation averages.
For much more information about a crossbreeding program in Kenya involving Gir dairy cattle please click here.
"Profana de Brasilia"

17,182 liters

Breed: Gir

"Proteina de Brasilia"

16,784 liters

Breed: Gir

"Luziada de Brasilia"

15,388 liters

Breed: Gir

"Oferenda"

15,260 liters

Breed: Gir

"Nata Lageado"

15,126 liters

Breed: Gir

"Nascente"

14,230 liters

Breed: Gir

"Palestra"

13,875 liters

Breed: Gir

"Dafar"

13,345 liters

Breed: Gir

"Garbha dos Pocoes"

12,463 liters

Breed: Gir

"Madre Badajos"

12,412 liters

Breed: Gir

"Soberana de Brasilia"

11,790 liters

Breed: Gir

"Amazona"

11,461 liters in 1st. Lactation

Breed: Gir

"C.A. Heureca"

10,446 liters

Breed: Gir

"Fecula Mutum"

16,618 liters

52.8 liters per day lactation average

2011 World Record Holder

Breed: Gir

"Via Jmma"

49.4 liters per day lactation average

World Record Heifer

Breed: Gir

"Anaflora"

49 liters per day lactation average

Breed: Gir

"Fita Mutum"

48 liters per day lactation average

Breed: Gir

"Esfera"

47 liters per day lactation average

Breed: Gir

"Barbara"

10,846 liters

Breed: Guzerat

"Bonanca"

9,071 liters

Breed: Guzerat

"Tulha Taboquinha"

36.5 liters per day lactation average

Breed: Guzerat